After invited
sexy and horny Ann from Indonesia
to visit instead of meeting her in town, I had about an hour to prepare dinner for us. As usual, I was cooking just wearing an apron to cover my front to prevent oil splashes with my door wide open where anyone who comes to my door will be able to see all the way through my kitchen. Time flew and before I knew, Ann was already standing at my door, watching me quietly without my awareness as I was to engross at my cooking. When I realized it was about time for her to arrive, I decided to set up table for our dinner. As I turned to walk towards my dinning hall, I had a shocked..... sexy horny girl Ann was standing at my door! This time her dressing was much more casual. Brown leotards with matching loose top with a knot tied near her hips and a pair of flip-flops.
Preparing dinner for sexy and horny Indonesian girl Ann wearing only apron
Ann: Hi Harry, it was so sexy watching you cook (she seemed happy watching me)
Me: Damn you Ann, how long have you been standing there? Why didn't you knock?
Ann: I wanted to but I just wanted to watch you cook.... with just an apron... you are so sexy.
Me: Come on in.... glad that you already enjoying even before you step in...
I walk over to invite her in still wearing my apron.
Ann: You always keep your door wide open even when you are naked? Not afraid if strangers came knocking on your door?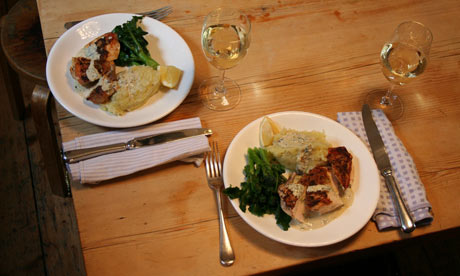 Prepared dinner for visit by sexy horny girl Ann from Indonesia
Me: Well, no big deal. Happened once a while. I even got lucky once where I got
hand jobs from 2 sales girls
selling vacuum cleaner.
Ann: hahaha... you are so funny Harry. Hard to believe you in this case but I will believe you on this one as I do witness you live this time and it matched what you said.
I led her to the dinning table, invited her to take seat and served her drinks and dinner. As I sat down to dine with her, I removed my only cover of apron. As I was removing it, she was admiring my naked body from top down until her eyes met my half erected cock.....
Sexy horny Indonesian girl Ann touch cock and balls
Ann: Hey little buddy, do you remember me?
Me: Right, let's eat....
As we tug into our dinner, we did some catching up and flirted a little out of good fun. She would lightly caress my inner thigh lightly as we eat and drink that never failed to bring my cock to immediate erection.
We continued to chat after our dinner with desserts and wine. she would go a bit further to hold my cock, gently stroking it and playing with my balls. I can see she was just being herself and not being naughty.
Time flies and it was time for her to leave.....
Ann: Thanks Harry for being so sweet.... I actually expected you to ask for a blow job or fuck but you didn't....
Me: Well, it don't always end up with sex play. I appreciate times like this more in fact. Chat with someone who don't mind me being naked plus your tender touch to my cock is good enough for me.
Ann: Thanks Harry, You are really a nice guy. I got to go now.... but before I go.... Can you masturbate right now for me? hehehe... I actually just wanted to see you shoot cum...
With that, I began masturbating away while sexy horny girl Ann watched with all the ooohs and aaahhs.... finally I cum and shot it onto the floor. She then helped me to clean up and before she left she said...
Ann: Thank you Harry, I really enjoyed this rare evening with you. You are such a sweet guy. We will meet again for sure..... Wait for my call ok. (with a witty wink). By the way, Say hello for me to
sexy and horny Malaysian girl Alice
.... Missed that threesome session already.
She gave me a friendly kiss and left......
What a day.... good night.